Sure, beach cleaning is fun – you can also collect there, but everyone has cans, plastic bags, cigarette packs, plastic bottles, etc. on their 'caminos' and squares right outside the front door, which no one puts away.
Or maybe the municipalities aren´t able to keep up with them.
All the same! Everyone sees it every day and yet doesn't see it. You're kind of used to it.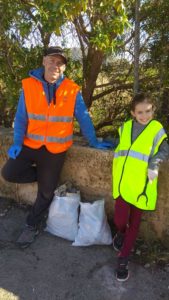 This can't be!
So why not spend your own Sunday walk on your own, with dog:-), with family and friends by filling garbage bags?
Do something! And have fun! Headphones on, music on, do your jogging program, a few stretching exercises, whatever  brings you joy.
Leave full bags on the side of the road and then drive down again by car and load them.
We turn it into a party and more. On the action days we meet at the event location, sort the garbage and then celebrate together what has been achieved with a barbecue party. Take photos for the municipality and invite the media to report on our action.
We also do information stands, workshops –  the children make signs from the garbage with "Don't throw garbage into nature. This is our future! Nina!" and they hang them on the paths.
Or you can do trash art, i.e. creating art from garbage together.
Additional information stands are intended to provide further information and motivate sustainability and waste reduction.
Food and drink is brought along and shared by those who want. There is no budget, no marketing at the moment, only people doing something together.
This form of organisation is also 'pandemic-friendly' if necessary.
Everyone can start for themselves or in their own chosen group. Can simply 'throw out' the bags at the drop-off point or stay and celebrate with other people and get to know each other.
'Private-individual-play'.
This will enable us to continue to be active also in "tighter determination situations" in the future.
With more fun in the actions, we want to motivate even more people to help for a clean and healthy planet and get them off the sofa. JOIN EVERYONE!!!
As an initiative of joint action for nature and the environment, ONDO is at the starting point with these first events, others are already in preparation. More on that soon.
Happy Garbage Collecting Days!!!
ONDO – living the change!
ONDO – Initiatives for nature and environment!
https://www.facebook.com/ondocommunity2019