BuyNothing offers people a way to give and receive, share, lend, and express gratitude through a worldwide gift economy network in which the true wealth is the web of connections formed between people.
You can start a buy nothing group on any social platform or download their app which they have developed after a growing demand.
https://buynothingproject.org/build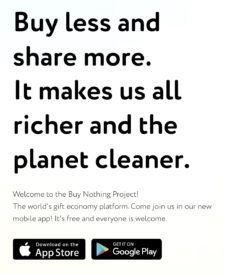 STEP 1: Download the App
STEP 2: Post an ASK in the App
Post an ASK post in the app to welcome others and ask people around you to comment and join in the conversation to let others know they are there!
You could say: "ASK: Hello everyone. Please join me in the app and comment to let me and others know you're here. Let's share our abundance, reduce our waste, build a circular economy, and strengthen ties within our community. Spread the word!"
Here's another Ask you can post: "My ask is a roll call! Let us know you're here. Say "Hi" in the comments or just like my post so we can see how many of us are actively here trying to build this community."
---
Principles:
We believe our hyper-local groups strengthen the social fabric of their communities, and ensure the health and vitality of each member.
We come from a place of abundance ~ not scarcity.
We believe in abundance, we give, we ask, we share, we lend and we express gratitude.
We are a gift economy, not a charity. We see no difference between want and need, waste and treasure.
We do not buy, sell, trade, barter, or otherwise exchange money for items or services.
We measure wealth by the personal connections made and trust between people.
We value people and their stories and narratives above the 'stuff.'
We are inclusive at our core.
We value honesty and integrity in all our interactions.
We view all gifts as equal; the human connection is the value.
We believe every community has the same wealth of generosity and abundance.
They believe that communities are more resilient, sustainable, equitable, and joyful when they have functional gift economies.